The last couple of weekends have just been a total blast fishing the WCVI on the banks just off of Ukee and Tofino!!!. I've been bringing friends out to give her a whirl and get into some fish.
On Saturday we headed out with my draftsman, my friend Steve, and his old timer fishing buddy. The fishing was kind of slow to start in the morning but by afternoon the action picked up considerably. Everyone had a great time and everyone caught fish.
My draftsman Randy caught his biggest fish to date and was very excited. It went 24 lbs.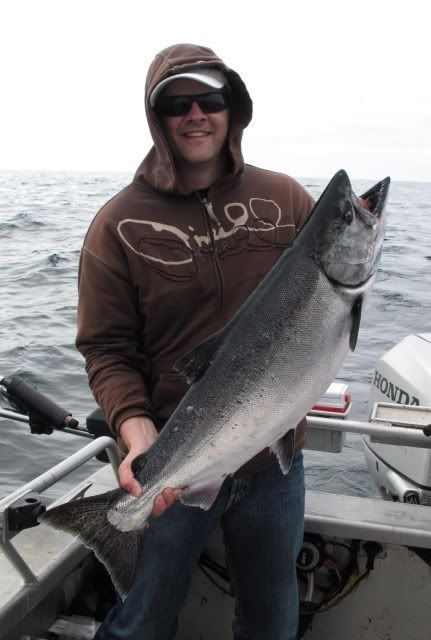 Steves fishing buddy caught his second halibut ever. He sure was a neat guy and very spry for a 75 year old.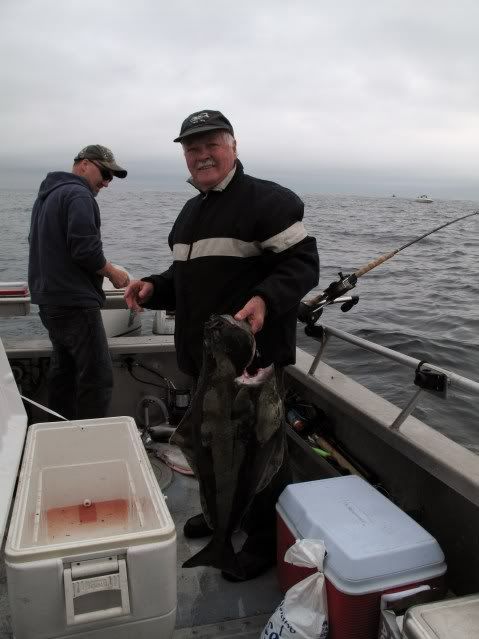 Steve had a small problem with the Cabela's quick draw rod holder........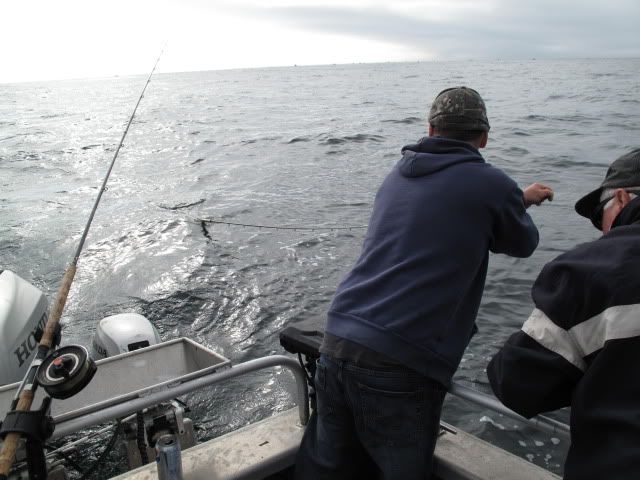 The hinged part blew out but luckily he buried the line in the clip and we got the rod back!
Out on the banks there were so many porpoises it was just crazy. I have never seen that many at a time.
On Sunday I went out with a couple of other friends and we experienced the same senario with the slower morning etc. and the afternoon action picking up considerably. We went out to the Wreck around lunch time just to check it out and found the coho big time. Played and released quite a few wild ones and managed a few hatchery fish around 12 lbs.
We decided to head over to the SW corner and as soon as we dropped the lines it was game on (and no it was not me who rigged that rod)!!!
Most of the fish were caught on metal in the 4" green/glow (hottest), PAL P2B, and 5" watermelon variey. Depths were 47' and 61' on the riggers.
We limited out on springs. Released quite a few smaller ones. Had a great time out there on the water. Some of the springs were jumping a couple of feet out of the water which made for excellent angling.
On the way in we saw an Orca quite close to the boat between Ukee and the banks. Really impressive mammals.
Great weekend shared with friends.