Walked into the shop today and someone had installed this shiny prop on our 39 Pilothouse. Thought it was cool so took a pic.
---
Holy smokes! Didn't realize you guys built boats of that size and with straight inboards. Nice work, how about a few pics of the whole boat? I'm ready to trade up for something like that (I wish)
1987 24' LaConner pilothouse workboat, 225 Suzuki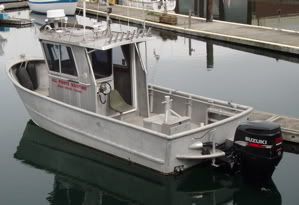 please view and like:
https://www.facebook.com/bottompainting/
---
Shiny! I like Shiny. More pics please!
Thanks,
mike
---
From the look of the stern, is this being built to a MIL Spec? I almost can see that the aft out box is to support the rudder, Right? Is the rudder offset so the shaft can be removed thru the sternpost rudder protector thingy tube? It apperas that the owner is going to use this in some dodgey waters and maybe even make a stern on landing. HEHE! MORE PICS would be really appreciated! THX!
STERN LANDINGS:
https://www.youtube.com/watch?v=GTZ59j7hIlk
https://www.youtube.com/watch?v=Kw2r3Of0miE
2009 Raider 185 Pro Fisherman, 2005 90Yamaha, 2012 Yamaha9.9HT, 2008 EzLoader roller, 2004 Dodge TCD dually, 2005/2015 Lance1161
---
Sorry Guys. A buddy stopped by with a present (photo attached). I believe to have been in a food coma for 3 days. Will take some more photos shortly! thx
---
I hope that buddy wasn't my brother, I still havn't gotten my crab from him yet.
---
---
Sorry guys. I PROMISE to have more photos shortly. Really busy right not but have been taking lots of photos! Will post more shortly.
---