I love her but she's loud. I have a 26 ft.Kingston Sea pro 7000 Sedan (This is the largest boat they ever built, Bath Ontario Canada,Kingston Boat works) Alloy with a 10 ft beam with a 5.7 efi with a Bravo 3 absolutely fantastic Craft. But its loud not anything wrong just Dog house loud. Is there a proven sound deadner that I might apply to the inside of the dog house?
26 ft. Kingston Sea Sport
18 Custom Skiff
---
There are sound deadening coatings that apparently work pretty well, google it, I've seen a couple of companies that exhibit at the big commercial boat show here in Seattle pushing those products.
1987 24' LaConner pilothouse workboat, 225 Suzuki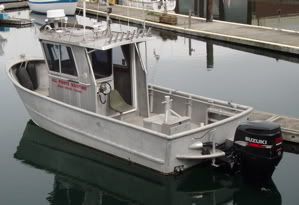 please view and like:
https://www.facebook.com/bottompainting/
---
Nice Thanks Chaps
26 ft. Kingston Sea Sport
18 Custom Skiff
---