Alaska what a country Alaskan's what a people 2012.
First off I must perfusely thank Pete (Spoiled One) and Doug (Propnut) for being such great hosts for us lower 48 AAB brethren. Sharing their Homes, Boats, Vehicles, alot of laughs and 8 year old hijinks...... I hope we did not embarrass the kids.
I must also give great thanks to to Pete and Doug's wives for generously giving us their husbands valuable family time to entertain us gawking tourists. Trusting us around your families. You guys must thank your lucky stars having such fabulous women.
I give thanks to my wife Carol (Carolmizer) and Lester's wife Claudia (Welderbabe) who came on this trip with us but went on adventures on their own. Letting us take off 5 days of fishing. Please feel free to post your pictures minus the All male eskimo stripper bar "Love from Above" pics.
I was happy to notice the kids were much more comfortable with our presence. I enjoyed the youthful exhuberance, INTELLIGENCE, energy and imagination that these kids have. They are what it takes to make Alaska such a great place. Those kids can flat out fish and make me laugh at the same time.
Somebody must have cashed in on some serious karma points, the weather was nothing short of miraculous. When the natives are saying they cannot believe the weather it really says something. The weather guy sounded bored " Wind less than 5 miles an hour Waves 2 feet." Pete being the ever wise Captain " When the wind blows out of Whittier..... Go out. when the wind blows in ....... Stay in."
This is a picture of a typical day. If you wanted to drop a 2 oz. lure down you could catch rockfish like this on almost every drop. The quarter inch ripples were very angry and took many days to get your sea legs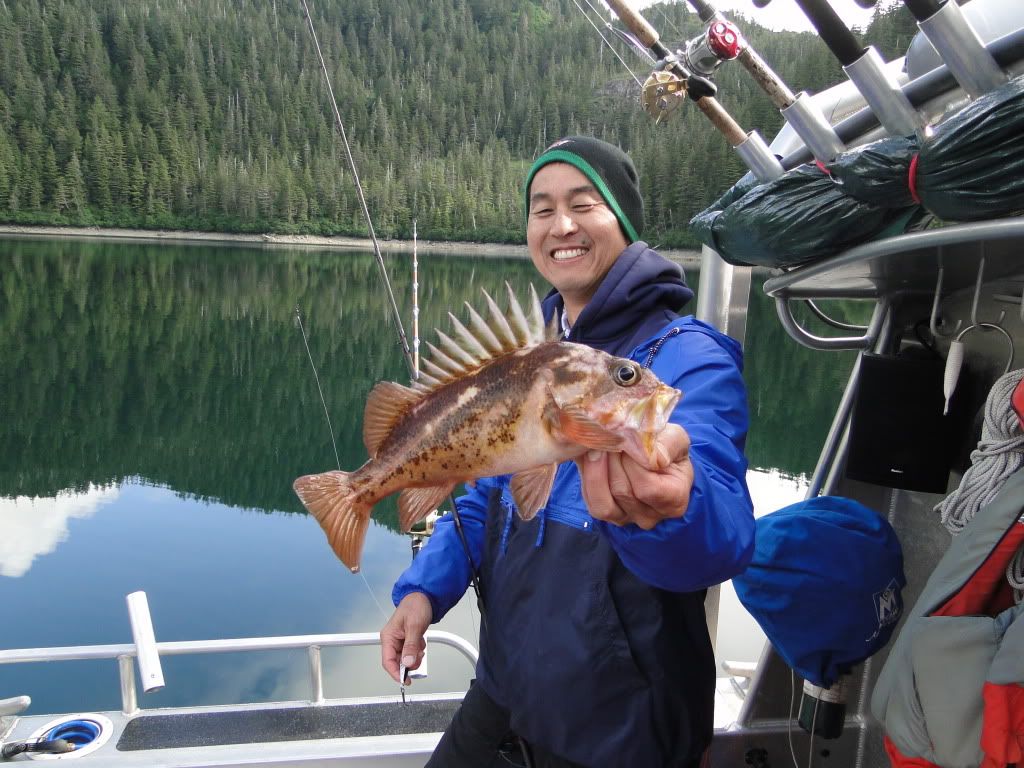 This trip for me had a different feel from the last trip. I could relax and enjoy family and friends more. Watching Scott (In2Deep) greenhorn eyes bug out at each turn and cove. He was a picture taking machine
So here I will write down part of our ADVENTURE Alaska AAB meet and greet 2012