I have always loved jig fishing .......... This has nothing to do with "East Coast vrs. West Coast". I feel techniques from all over the world can apply to building a knowledge base where you can fish the whole water column. I have seen great jig fishermen miss opertunities on catching fish by locking themselves into a few techniques. Posting your ideas are always welcome in building my jigging experience and knowledge.
My gear:
8' Calstar TT670 paired with Penn Baja special with modified drag and dog gear......... 25 lb. Izorline used for light jigging locally. Surface Irons Tady C, Small heavy jig Salas 6X Jr. (and knocking In2Deep's guides off :shock: )
8' Calstar T6480 paired with second Penn Baja special with modified drag and dog gear........... 100 lb. Spider Wire Stealth 6' of 50 lb. Seguar Flourocarbon leader attached by sampo swivel. Yo Yo jigging deep. Salas PL68 in glow paint and 10 oz. diamond jig. On occasion Salas 6X Jr. for Yellowtail.
8' Graphite USA Wahoo jig stick paired with Shimano 30 Torsa........... 85 lb. Jerry Brown Spectra, Sato crimp 60 lb. Izorline topshot. Yo Yo jigging PL68 glow paint. Salas 4/0 blue and Chrome. Guadalupe Island tuna and yellowtail
5'8" XXH Trevala paired with Shimano 20 Torsa........... 100 lb Spider Wire Butterfly jigs Generally 200 Gr.
On order from JPR rods (funny Jetty orders from West Coast and I am ordering from East Coast):
Acid Wrapped Jigging Master 350 G paired with a Accurate Extreme B2 665 N
Acid Wrapped Jigging Master 500 G paired with a Accurate Extreme B2 30
On order from Anglers Pro Shop:
Zenaq MB 860 H paired with Accurate Extreme B2 50
I know I know being a tackle ho is a disease. Need to join AA............. Anglers Anonymous.
Seems the East Coast guys have really picked up on the Speed jigging techniques going for Slob Bluefin, Whale Cod and Amberjacks. Love to Hear from you.
Still the West Coast jiggers Love their 8' jig sticks ............. but when the cows come to play ouch
but is deadly on medium to large fish.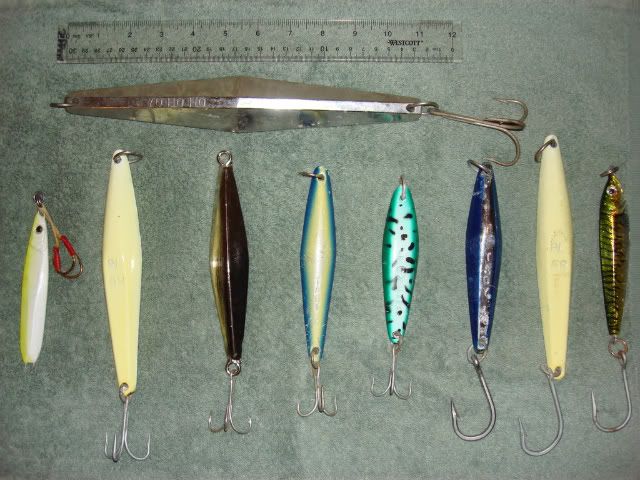 Want to ask me about my jigs? Fishing All conditions and water columns.
Tight lines
Mark