Shimano Curado 300 EJ high speed:
http://cgi.ebay.com/ws/eBayISAPI.dll?Vi ... ink:top:en
or
http://cgi.ebay.com/SHIMANO-CURADO-300E ... 27ba6e5bd9
MSRP: $269.00
Free ship, no tax. $5.00 ship. I know this is my #1 Light tackle reel...I have 4 older ones.
WOW!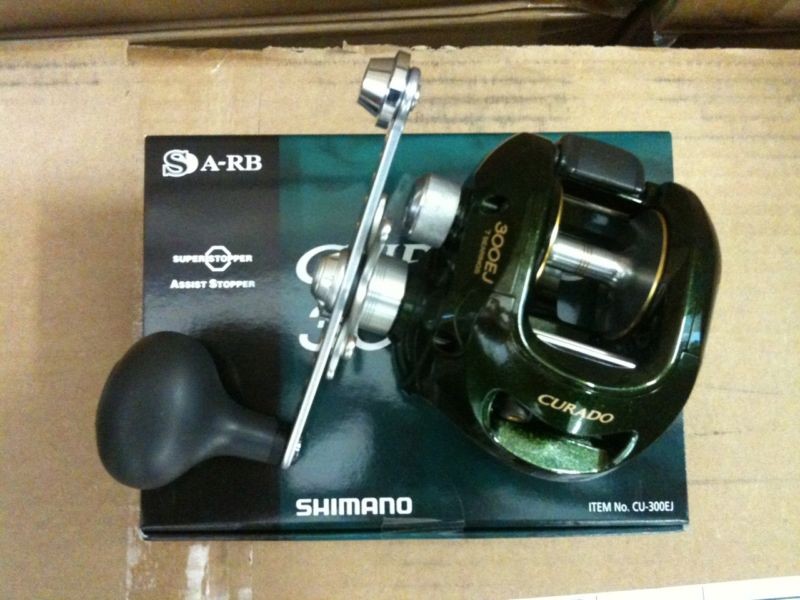 Features and Specifications:
Tremendous line capacity for large swimbaits and plugs
Aluminum Frame
Lightweight Graphite Sideplates (Aluminum Handle Side on 300 sizes)
Recessed Reel Foot
High Efficiency Gearing (HEG)
Super Free Bearing Supported Pinion Gear System (SF)
A7075 Aluminum Magnumlite Spool
Dartainium Drag
7 Bearings • 1 S A-RB BB • 5 Shielded Stainless Steel BB • 1 A-RB Roller Clutch Bearing
Variable Brake System (VBS) with Reduced Mass Hub
Super Stopper II
Assist Stopper
Drilled Handle Shank
Septon SV Power Grips
Cold Forged AL Drag Star with Clicking Adjustment
Titanium IP Line Guide
1/8 Turn Easy Access Attached Sideplate
Metal Cast Control Knob
Double Anodized Spool
Single Counterbalanced Jigging Handle
Disengaging Levelwind System
QuickFire II Clutch Bar
Made in Japan
Gear Ratio: 6.9:1
Max Drag: 15 lbs.
Weight: 11.5 oz.
Line Recovery (inches / turn): 32"
Line Capacity: (Mono) 12 lbs/240 yds - 20 lbs/120 yds
Line Capacity: (PowerPro) 50 lbs/205 yds - 65 lbs/120 yds