Is it worth repairing the inflatable or getting a new inflatable for the hull.
It is leaking at the seems.
---
its done
1987 24' LaConner pilothouse workboat, 225 Suzuki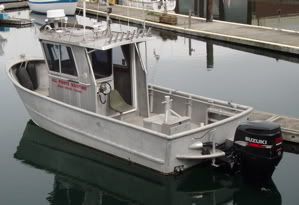 please view and like:
https://www.facebook.com/bottompainting/
---
So I'm selling R of the RIB and a decent steel painted trailer .
I guess it's 16' OA inflated.
---
Donator 08','09,'10,'11,'12,'13,'14,'15,'16,'17,'18'
Posts: 1389
Joined: Mon Aug 18, 2008 1:37 am
Location: Kenai, Alaska
G and R, I didn't understand if the inflatable (raft) ring was leaking at the (rubberized cloth) seams or there was an inner welded aluminum rigid hull was leaking at the seams? Sorry to be dense but you and Chaps' back and forth seemed to be pretty cryptic to me???

If the RIB is that short (16'LOA) then is this just a raft with a small floor or is there a significant welded V and inflatable mount ring ? Just curious about the build that small?

cheers,
Kevin Morin
Kenai, AK
kmorin
---
Site Admin
Posts: 4552
Joined: Thu Jan 03, 2008 11:51 pm
Location: Whitesboro, Texas
Contact:
---