Here is a picture of my 15 year old zinc from my Pacific 1925, I do not have any corrosion but the anodes on my outboard show some wear, I want to replace this zinc, I use the boat 80% salt water and 20% fresh. What type of anode should I be using, I have read aluminum is better for an aluminum boat. Thoughts?
'05 Pacific 1925
Honda 90hp
---
Anodes are meant to be sacrificial but that one didn't get the memo! Zinc anodes don't do a very good job protecting aluminum boats, there isn't enough difference in the galvanic potential between a zinc anode and typical marine plate alloy so the zinc doesn't respond, particularly when they get older and develop an oxide coating (they need to be aggressively cleaned occasionally). Aluminum anodes are manufactured to be a little lower on the galvanic scale than zinc anodes thus they will more readily sacrifice themselves in defense of your boat and they don't quit working until they are used up since they don't get crusty and isolate themselves like zinc anodes will.

In the case of your Pacific, the outboard anodes, being aluminum, are trying to protect the whole boat because the engine and hull are bonded together and in such a case the zinc hull anode is simply sitting around doing nothing while the one on your Honda is working overtime and wasting away much quicker than it would if you also had an aluminum anode on the hull.

Magnesium anodes are too reactive in salt or brackish water, they will fizz off quickly and in some cases coat the surrounding area on the boat with a coating of magnesium. Magnesium anodes are for protecting boats, outboards and I/O outdrives that are used on clean, freshwater lakes and rivers with water of low electrical conductivity.
1987 24' LaConner pilothouse workboat, 225 Suzuki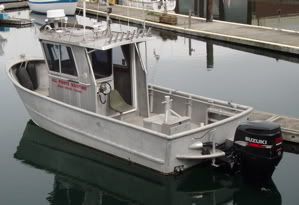 please view and like:
https://www.facebook.com/bottompainting/
---
Thanks for the info, so I guess I should get the aluminum anode
'05 Pacific 1925
Honda 90hp
---