I have ordered a new 26 foot Duckworth Offshore. I am wondering how much anchor line do you Offshore operators have for your boat? I am planning to use 8 plait line for the flexibility and compact storage, but I do not know how much I can fit into the locker when using the Lewmar Profish 700. I plan to have 30 feet of chain attached to the anchor/line.
---
I heard from Duckworth and was told the anchor locker was designed to hold 500 feet of 5/8th inch anchor rope. I don't know if that is 3 strand or what. I am going to try 500 feet of 1/2 inch 8 plait and 30 feet of 1/4 inch chain. We will see if the Lewmar 700 Profish likes it or not.
---
Be sure the chain is type G4 and 3 strand nylon is what they would have spec'd but 8 plait in 1/2" will easily fit in that locker. Avoid allowing the chain to lay up against the inside of the bare metal locker long term as you can get a galvanic reaction that can cause some grief.
1987 24' LaConner pilothouse workboat, 225 Suzuki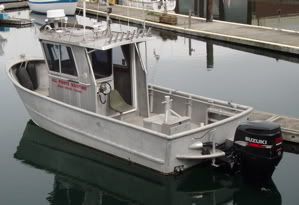 please view and like:
https://www.facebook.com/bottompainting/
---