Hi all,
I am going to add more pics to the original stuff so that all the photos are together. The "new posts" icon will not show this so you will have to check yourself.
Here is the beast. 27 Feet long & 8'6" beam, 120 US gallons of fuel, 30 gallons of water powered by a 250 Yamaha. Boat
sits on a custom built alloy trailer with dual SS disk brake system.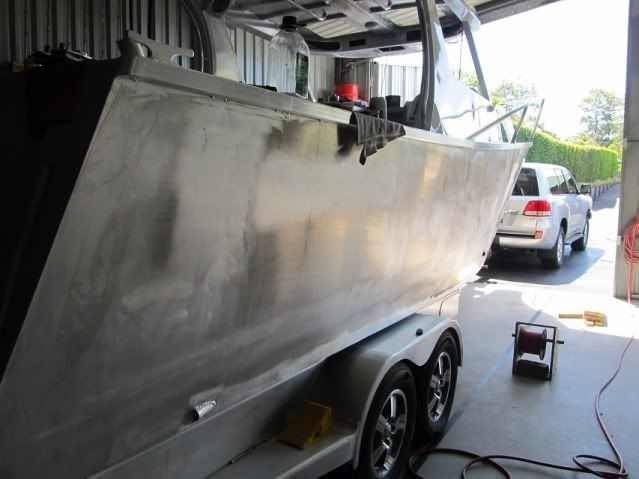 6mm bottom & transom, 4mm sides with 3-4mm topside.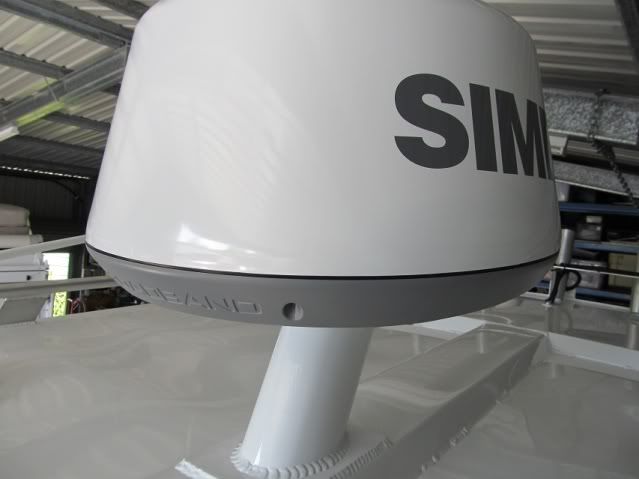 Simrad Broadband radar on pedestal. All electronics will be Simrad with Furuno sounder, ICOM VHF &
Fusion sound system.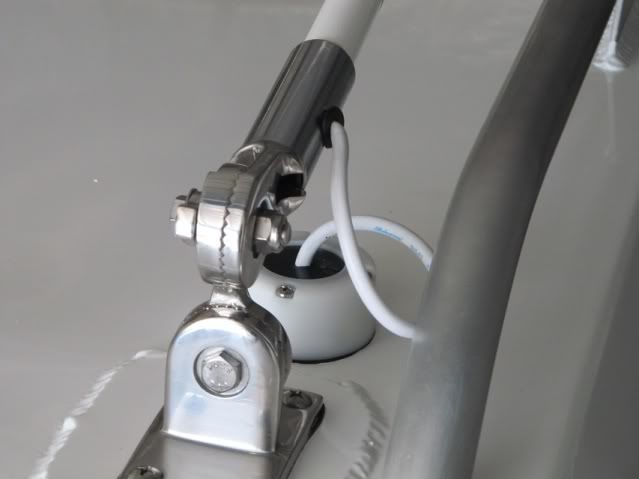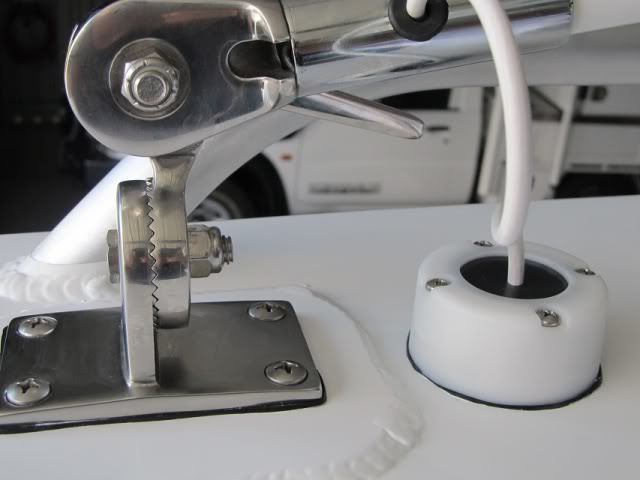 Shakespeare antenna & mount with Blue Seas cable clam fitting. None of these fittings are screwed or
riveted. Everything is through bolted with SS bolts/nyloc nuts coated in Tyfgel & nylon washers against the alloy.
GPS antenna flush fitted & remote spotlight.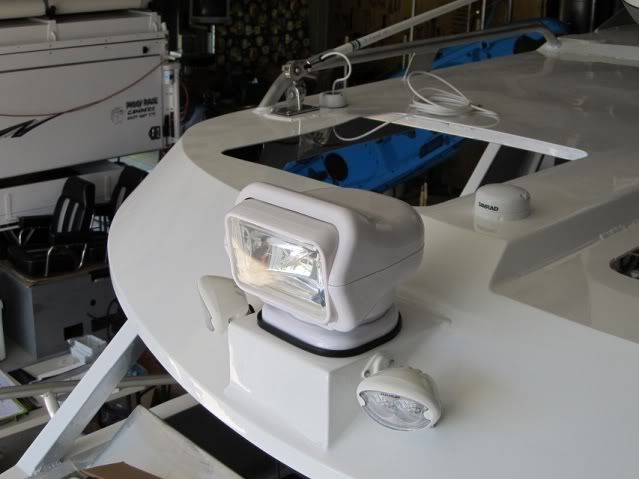 Two forward LED fixed spots showing use of clamshells to run wiring inside roof. Plenty of 3M sealant is required.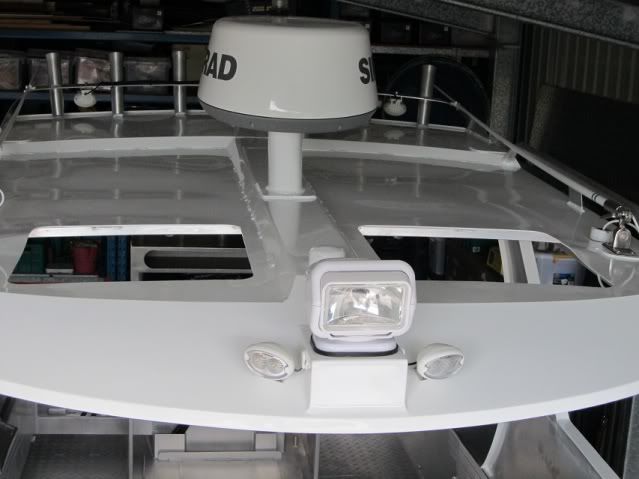 Starting to take shape. All wiring/cable is marine grade tinned copper & heatsrink terminals/connectors are US made.
http://superiorterminals.com.au/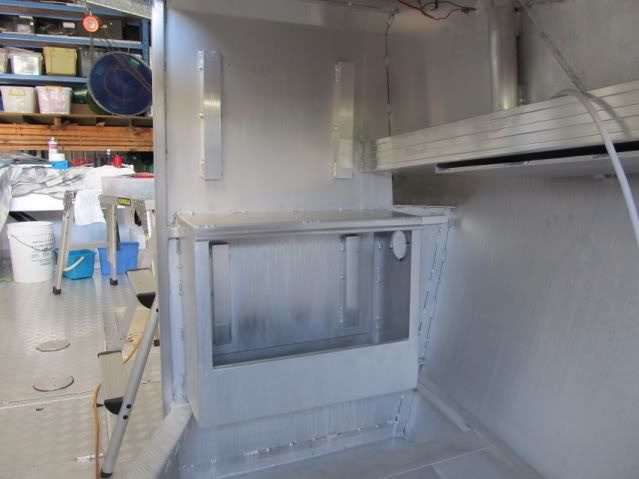 Port electronics box. This is where all the interface modules will be located. Going to be tight.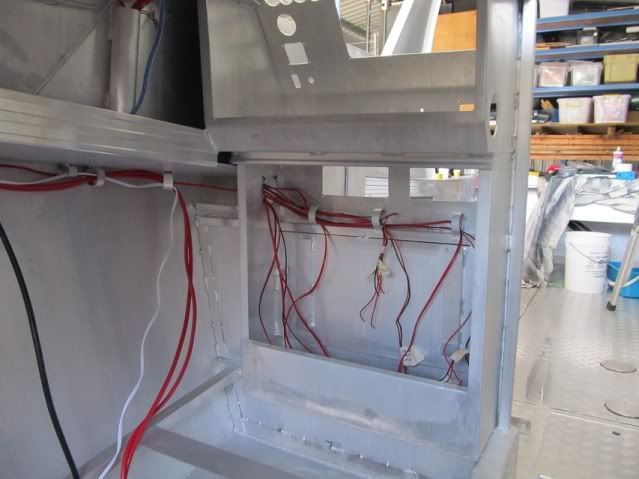 Early wiring runs. These will end up below the helm in their own electrical box.
Do-it-yourself chafe protection for wires. Split plastic tube secured with zip ties. Simple,neat,effective & quick
to fit any size hole.
Anchor winch. Very heavy 1/4" welded stainless plate through bolted to 12mm doubler plate welded onto re-inforced
anchor well aft bulkhead. Will hold about 700 feet of Dyneema anchor line & 30 feet of SS chain. Bow & feed rollers still to be fitted.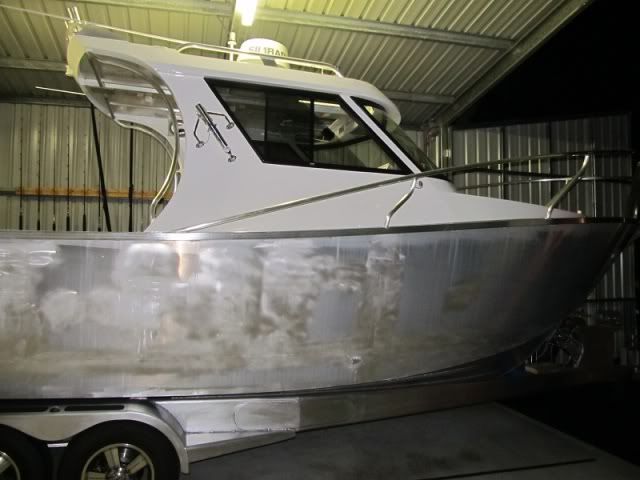 Back from the builders with windows fitted but Bomar hatches still to come. Glass on the front screen is 8mm
laminated & costs plenty. Fortunately, I am not paying for it. Side windows slide.
The rings are a very hard type of plastic bolted to the alloy speaker boxes. The speakers can then be screwed
into place using long screws. Screwing or riveting the speakers directly onto the alloy is a sure way to have the
speakers come loose on a rough day. The round plate lower down gives access to the outrigger base bolts.
Wiring loom going forward. AWG2 cable is used to power the winch. It is a long run from the aft batteries & the
winch pulls 1400W. That is 116 Amps without taking into account bundleing or the two joins for the aft & cabin
bulkhead breaker. The wiring will be covered by carpet ................. NOT monkey fur.
Being in direct contact with the hull will help dissipate any heat buildup in the cables.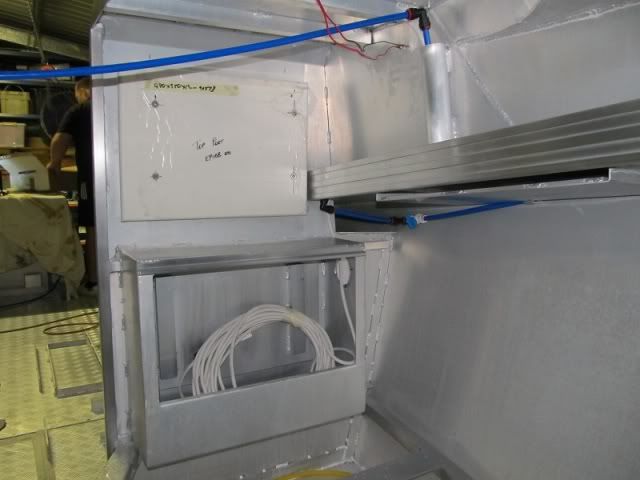 Electronics box already full of radar cable. The modules will be mounted on starboard as per the area above
which will hold EPIRB & fire extinguishers. The blue tube is for fresh water.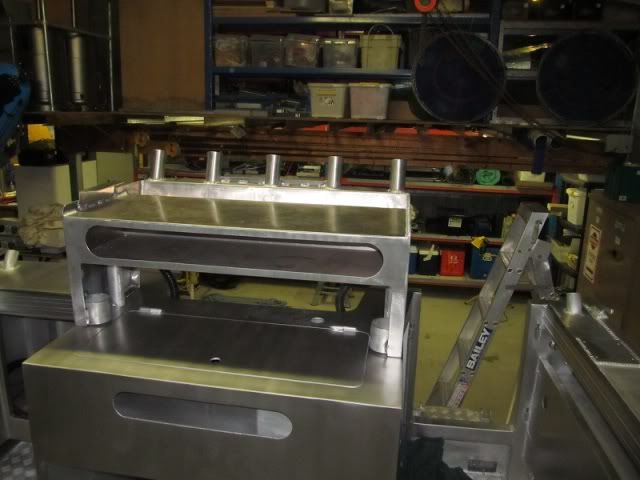 Bait preparation & rigging area. Live bait tank under. Starboard will be fitted to the top & the bait tank lid.
Business end. 23 degree deadrise so this hull is designed to go fast in lumpy seas. SS264 1KW ducers, each single freq. More to come down this end, such as tabs & other stuff............ you will have to be patient.
Inverter.............. huge variety.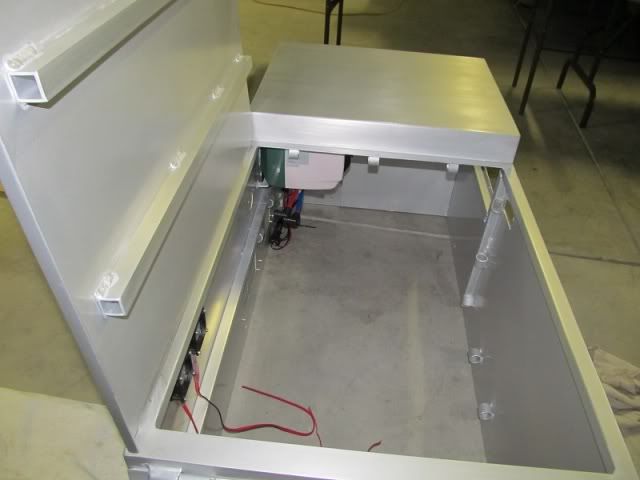 Where the inverter & house battery will live. Inside the port seat box. The two exhaust fans can change the air in the box every 30 seconds. And yes,
that is a hot water heater you can see tucked under the lid. No cold showers here.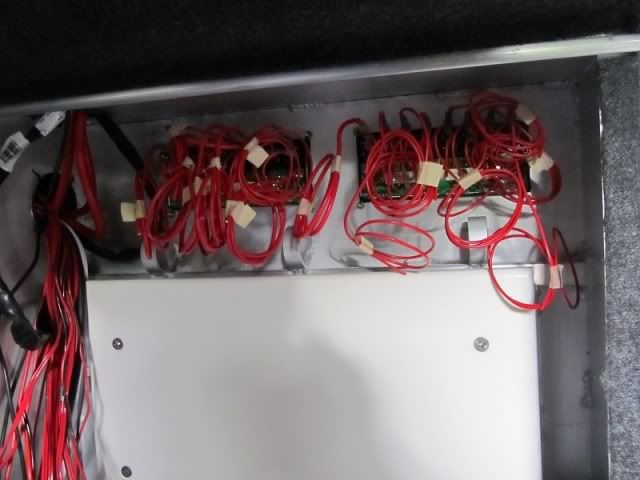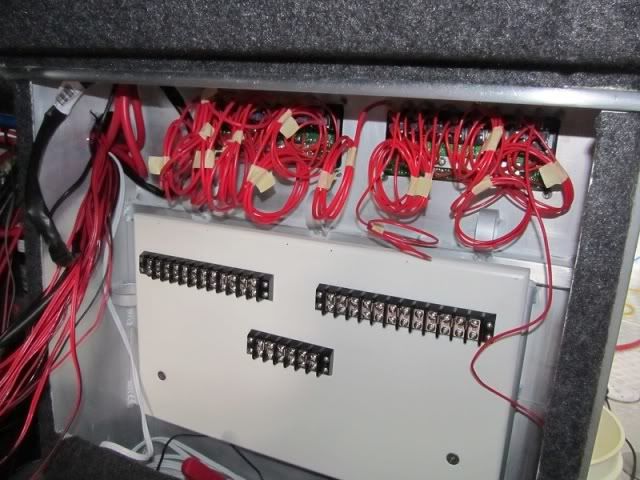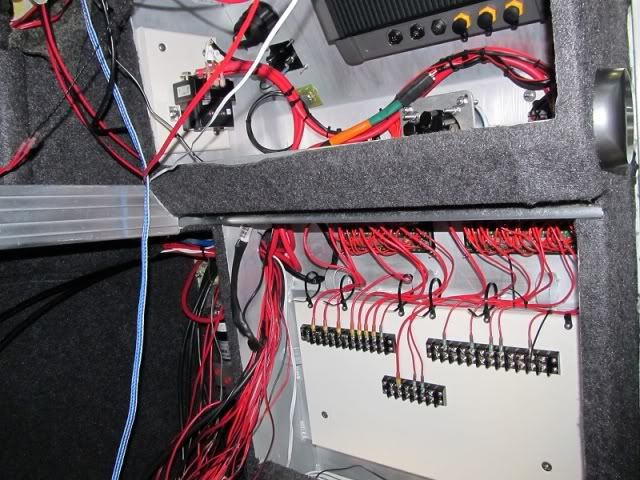 Slow progress wiring the main board.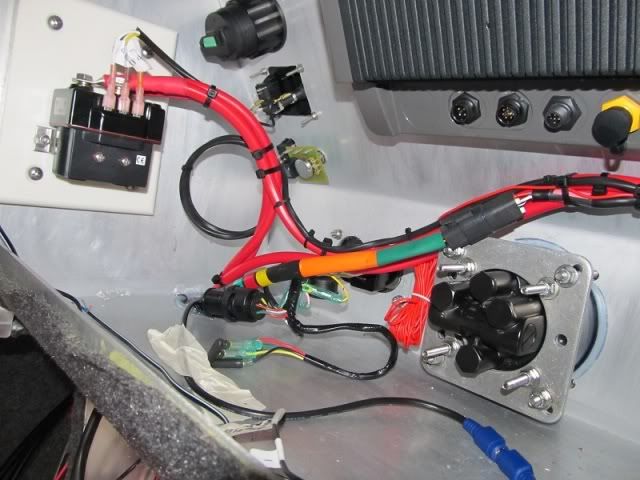 Winch solenoid in position & hooked up.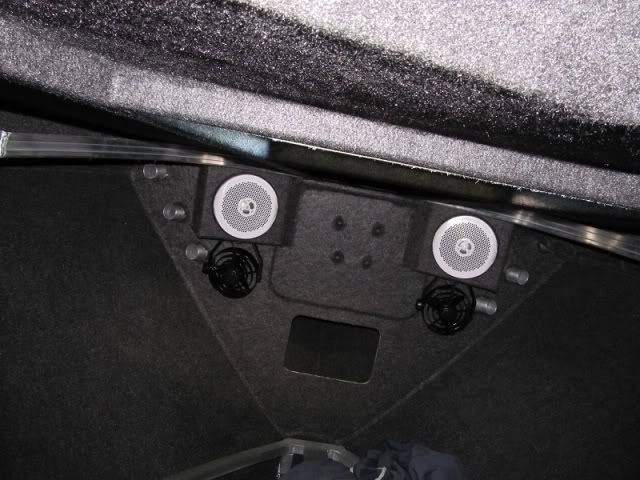 Speakers over the bunks & in the cab. Carpet (NOT monkey fur) everywhere.
Jeff the owner doing stuff.
Stuff done. Looking good.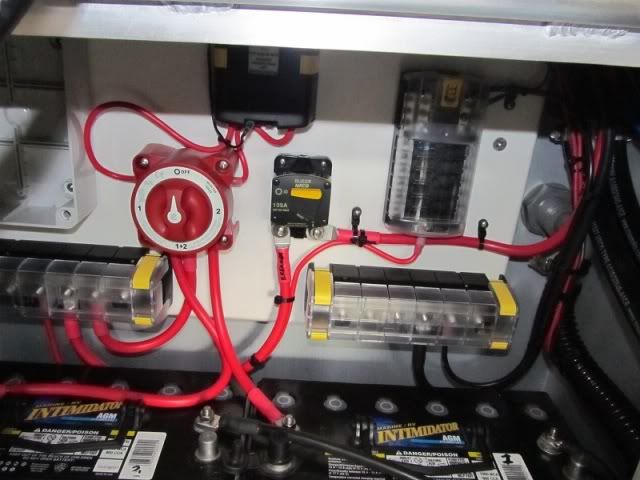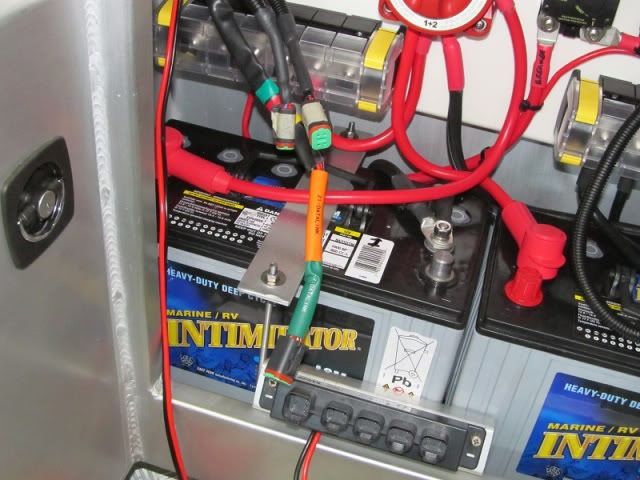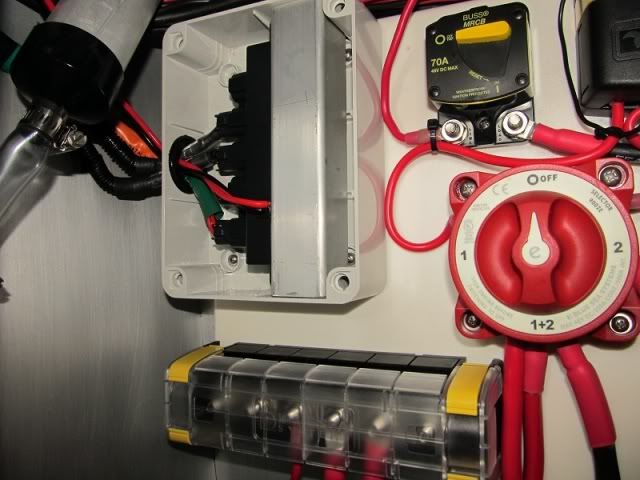 Wiring instal in very tight battery compartment. Lost some skin, blood & sweat.
The fan was needed. Temp was around 95F with 70% humidity.
Serious bait tank. Two water inlets plus two LED lights.
Structure scan ducer. Plenty of goodies to come. Stay tuned.