On Sat. Sept 5th my customer, Justin Jarmolowicz of Wells Maine, boated this trophy wolfish while fishing with me aboard my boat the Lady Diane. The wolf, which measured 40" and weighed 22 lbs, hammered a cod jig in deep water way east of the bank. To date this it is the biggest wolf we have taken on the boat.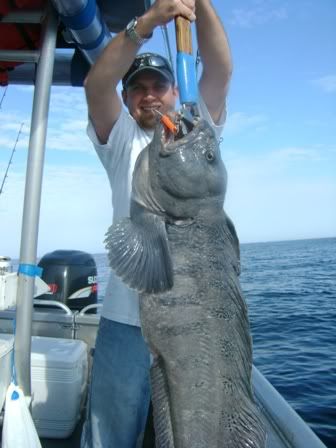 The wolfish only eats scallops, crabs, and lobsters and is one of the finest eating fish you can catch. Extremely nasty by nature they must be dispatched before attempting to unhook. Their powerful jaws could easily crush your hand. Next year they are being put on a protected species list and all that are caught must be released alive. I am inviting the "PHD" who wrote that reg to come aboard and show me how to do it. (Reminder to Capt George...retake First Aid Class before that charter
)
Ground fishing right now is the best it has been all year. Plenty of haddock, slammer pollack, and cod to 35lbs are covering the bottom east of the bank. With the cool weather coming it should be a great finish to a fantastic season.
A full report can be read
HERE